"Scissors" is the life of a hairdresser / barber. There are three types of processing methods for detecting two types of scissors: forging and casting.
Simply put, forging means that it can be used for a long time because the strength is increased by hitting the iron plate.
-On the other hand, castings can be made into desired shapes by pouring iron into the mold. Compared with forging, the strength is reduced.
The major difference between forging and casting is "strength" and "flexibility".
Forging
If the scissors are made as they are, the metal structure may not be uniform and the finish may vary.
In order to make the structure uniform, forging by hitting a metal, it is possible to increase the strength of the material and improve wear resistance and toughness.
Even if the same material is forged or not, the effect is obvious.
When toughness and strength are improved in a well-balanced manner, it is often the case that blade spills caused by accidental dropping or cutting of sand on the hair can be accommodated with minimal maintenance.
* Some errors may occur depending on the age of use, how many people / day, hair quality, wet or dry cut, etc.
casting
 Casting is mainly used in the handle part. If you compare it with clothes, there is a place where you want to see one piece, and there are places where all the forging is made from sheet iron, but there are many scissors where the blade part is forged and the handle part with a high design system is made by casting. There is an advantage that you can attach a handle with a design that suits your taste, but the strength is not so stiff, and if you drop it, it will bend immediately.
Whether it is strong forging scissors or not is not obvious at first glance, so hairdressers often use it for one to two years, and those who want to buy strong forging scissors should contact the manufacturer of the distributor Please purchase after checking to check.
Barber / Beauty Steel Features
The steel (material) of the barbershop、「HITACHI440C」、「ATS314」、「Super Gold」、「Damascus steel」sell.
「cobaltspecial」、「VG10」sell.
「ATS314」Our main steel material with excellent hardness, viscosity and toughness.
Delivered 2-4 months after ordering.
Please feel free to consult from large lot to small lot.
In the table below, steel materials that are easy to process are inferior in wear resistance and are related to how long the cutter can be cut.
Supergold
ATS314
日立440C
他社440C
Hardness
★★★★★

★★★★☆

★★★

☆☆

★★★

☆☆

Stickiness

★★★★☆

★★★★☆

★★★

☆☆

★★

☆☆

☆

Toughness

★★★

☆☆

★★★★☆

★★★

☆☆

★★

☆☆

☆

Ease of processing

★

☆☆☆☆

★★

☆☆

☆

★★★

☆☆

★★★★☆

Estimated price
2.5
2
1
0.8
スーパーゴールド

硬さ:★★★★

★


粘さ:★★★★☆
対靭性:★★★☆☆
加工しやすさ:★☆☆☆☆
価格の目安:2.5

ATS314

硬さ:★★★

★

☆
粘さ:★★★★☆
対靭性:★★★★☆
加工しやすさ:★★☆☆☆
価格の目安:2

日立440C

硬さ:★★★☆☆
粘さ:★★★☆☆
対靭性:★★★☆☆
加工しやすさ:★★★☆☆
価格の目安:1

他社440C

硬さ:★★★☆☆
粘さ:★★☆☆☆
対靭性:★★☆☆☆
加工しやすさ:★★★★☆
価格の目安:0.8
◆HITACHI440C 
"440C" is a JIS standard steel material, which is manufactured by various companies. Hitachi steel is the most highly regarded in the industry.
Since "440C" is Hitachi's superior steelmaking technology and is extremely high in purity, Hitachi's "440C" steel is about 1.5 to 20% more expensive than the competitor's standard steel.
Hardness is the same, but wear resistance is strong, and viscosity and toughness are greatly different. Those with high wear resistance are steel materials that are difficult to machine, and handling them requires craftsmanship and effort. The amount of time and effort required by craftsmen not to compromise with superior Japanese technology leads to the sharpness of the salmon and the comfort that fits in the hand.
Currently, more high-grade materials have also appeared, and "ATS314" is a higher-grade material.
◆ATS314 
"ATS314" steel is a stainless steel cobalt alloy. By mixing the cobalt alloy, it was possible to have higher wear resistance with higher hardness.
"It is a higher grade steel than" Hitachi 440C ", making it difficult to process and higher prices.
The ski cuts are made with wire cuts of 鋏, 1-chome and 1-chome. It is possible to design eyes that are more complicated than conventional skies. This makes it possible to create a comb blade shape that can control the cutting rate, and an unprecedented sharpness.
Manufacturing processManufacturing process
Forging process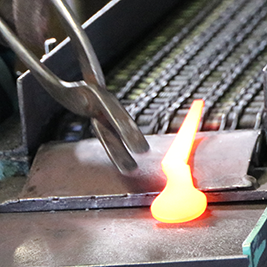 Cutting steel sheets on blades and handle materials
▼
Coarse
▼
Finising
▼
Without burr
▼
Coining
Automatic polishing machine processing process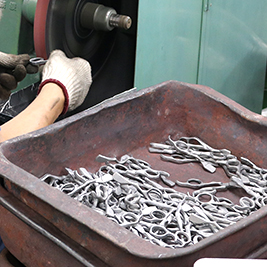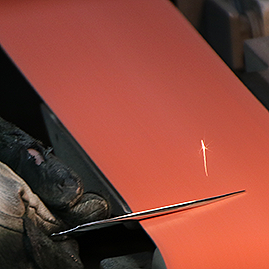 Drilling
▼
Surface polishing
▼
Blade grinding
▼
Back skiving
▼
Surface cutting
スキ鋏の目切りは鋏、一丁、一丁をワイヤーカットで行っております。 従来のスキ鋏よりも複雑な目の設計が可能です。これによりカット率をコントロールできる櫛刃形状、またこれまでに無い切れ味を生み出すことできます。。
Molding, polishing and finishing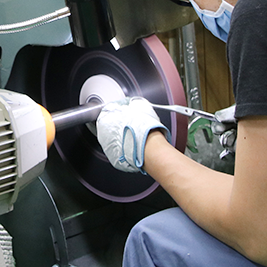 The craftsman performs
a number of polishings.
Finish polishing
▼
Final mirror finish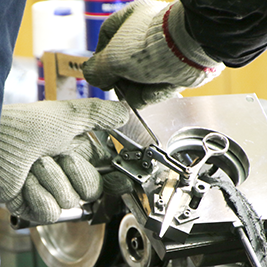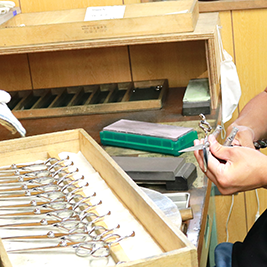 We make an important bag with craftsmanship cultivated by experience.
Nipple removal, strain relief
▼
Final finish